Level 26
Well, not as soon as you'd think. First, travel to the southern plains, find any kind of Plains Grarrl, defeat it, and receive a Carved Oak Staff. Now return to the desert and enter the temple! The Temple of Roo is huge, and like all the other places in NQ, you're going to have to make a complete circle around the map just to get to the lower floor. The development team must've been sadists.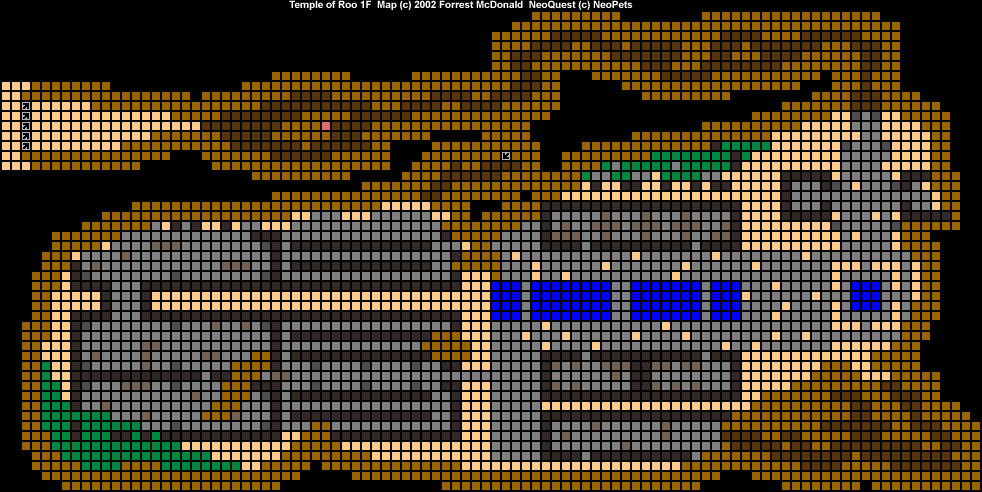 This floor is huge! Click to enlarge.



Anyway, you'll want to HUNT all the way through the temple. That's right, levelbusting once again! At least this time you have somewhere to go instead of running around in circles. First, though, talk to Erick, the deranged Cybunny near the entrance. No enemies will attack out in the sandy area at the entrance, so that's a bit of a plus. You will probably spend about three or four hours traveling through this area, but it's worth it. The lower floor is insanely long, too. Nab a Piece of Living Crystal from a Crystal Golem on your way in. These golems can be found as you approach the stairway leading down.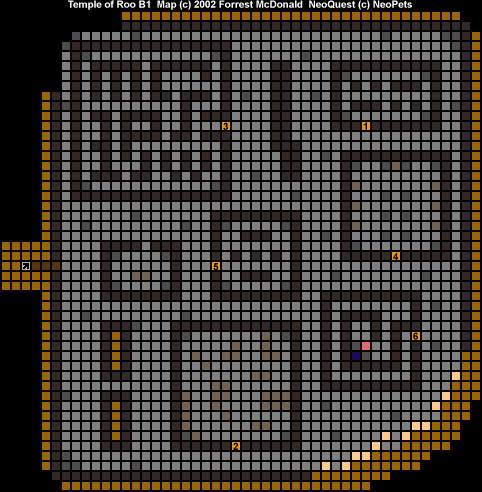 You should enter here around level 29. Once you reach level 31, that's enough levelbusting. What a relief! Now, this floor has enemies that start with the word "Ghastly", like "Ghastly Initiate" or "Ghastly Champion". Apparently "Ghastly" means "Incessant Draining", and that's what they'll do. You'll continually be drained of your life by these enemies, but it shouldn't be much of a hassle as you level up. Just make sure your stock of potions is either full or nearly full. So, you're in the basement with a bunch of locked doors. If you read the note near the entrance to this floor, you'd understand how it works, but for the people who are a bit slow, here's how it works:

Enter the open "room", HUNT, and wait until a Ghastly Initiate attacks you. Defeat it, and you'll receive a Copper-Plated Key. This opens the door marked with a "1". Enter that room, and HUNT until you find a Ghastly Adept. Defeat it for a Bronze-Plated Key, which will allow you passage to door number two. Continue this pattern all the way up to door number six, where your pal Archie is waiting for you. Make sure one of the "Ghastly" enemies drops an Emerald. You'll be needing it later.

At level 31 and with a full stock of healing potions, Archie won't be very difficult, but this battle will be LONG. He can cast fire, ice, drain, stun for three, and heal. He heals often, so don't be surprised if halfway through the battle, he's back to full health. Keep at it and victory will be yours! You'll receive the Clouded Gem from Archie, who surprisingly dies, rather than crawls away like all the other G-rated battles. Take the teleporter back to the enterance. After being stuck in this place for nearly six hours, you'd be happy to never return here again, right? Well, too bad. You've got one more task before your eyes can stop stinging, but it'll be well worth it.



Recap:
Level 31
Weapon: Nature Wand (Str-10)
Armour: Any Def-10 armour

Items:
Tiny Beryl,
GS x1,
Piece of Living Crystal,
Emerald,
Xantan's Ring,
Staff of Ni-Tas,
Rusty Medallion,
Clouded Gem,
Healing Potions.